Kenny Golladay
New York Giants
Wide Receiver #19
New York Giants
Wide Receiver #19
iconsportswire.com
Personal
| | |
| --- | --- |
| Age | 28 |
| Birthdate | November 3, 1993 |
| Height | 6'4" |
| Weight | 218 lb |
Draft
College
Northern Illinois
Year
2017
Pick
Round: 3, Overall: 96
Team
DET
Fantasy Value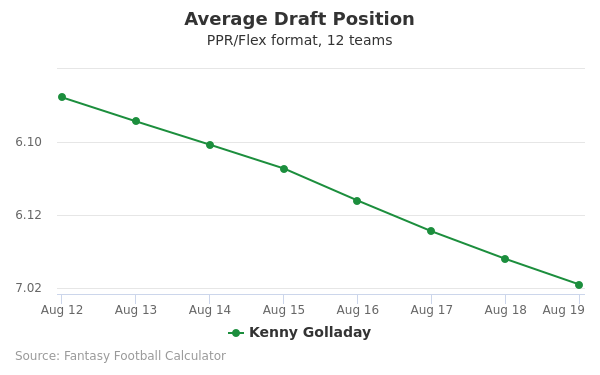 The code below will display a graph that updates every day to show the ADP data for Kenny Golladay for the past 30 days in 12-team PPR leagues.
You may use this graph on your website for free with a link back to this page for attribution.
Player News
Kenny Golladay: Could see action in preseason opener
Coach Brian Daboll indicated Sunday that he's not inclined to rest any of his team's healthy players in Thursday's preseason opener against the Patriots, Ryan Dunleavy of the New York Post reports. Golladay didn't play in the 2021 preseason due to a hamstring injury, but he's been able to practice of late.
Analysis: If Golladay can stay healthy and return to being a threat on contested catches downfield, Dan Dugganof The Athletic suggests that the 6-foot-4, 213-pounder can add a vertical dimension to the Giants' offense this coming season. If that scenario plays out as hoped, Golladay -- who logged a 37/521/0 stat line in 14 games last year -- profiles as a fantasy bounce-back candidate while working as a key cog in a New York wide receiver corps that also includes Kadarius Toney, Sterling Shepard and Wan'Dale Robinson.
Aug. 8, 2022 2:30 PM EST
Player Stats
YEAR
TM
GM
Receiving
Rushing
REC
TGT
%
YDS
TD
YPC
ATT
YDS
YPC
TD
FUM
2017
DET
16
28
48
58.3
477
3
17.0
1
9
9.0
0
0
2018
DET
16
70
119
58.8
1,063
5
15.2
1
8
8.0
0
0
2019
DET
16
65
116
56.0
1,190
11
18.3
0
0
0
0
1
2020
DET
16
20
32
62.5
338
2
16.9
0
0
0
0
0
Recent Articles
In this article, we will be looking at some of the 2021 rookies who showed some promise but weren't necessarily fantasy-relevant on a...
Read more »
July 28, 2022. Premium
Week 14 marks the last regular-season game in most leagues and now is not the time to get fancy with your lineup. A win means you're in...
Read more »
December 10, 2021. Premium
December 10, 2021
Premium
We only have two weeks left in the fantasy regular season and for those on the cusp of making the playoffs, we need a win now. In week...
Read more »
December 3, 2021. Premium
Who Should You Start?
Who Should You Draft?